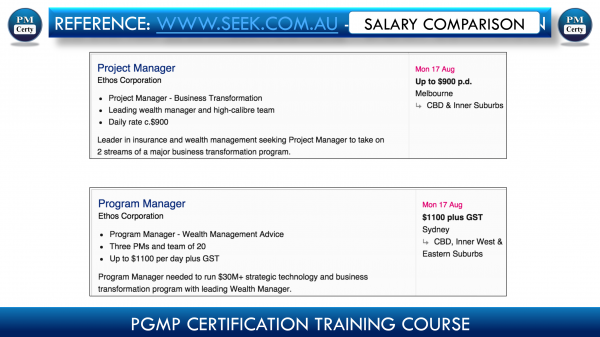 What Motivates Professionals to Pursue PgMP Certification? (Pay Rise?)
We have looked at PMI's (Project Management Institute) PgMP (Program Management Professional) Certification Process from different angles in previous posts.
The fundamental question is what would motivate professionals in project management field to pursue PgMP certification?
I guess the most obvious need of any professional would be the need to get better. Either in terms of position or learning and improvement or recognition or belongingness and association to upper management or need for a better change or to progress earnings. Or simply to avoid risk of falling behind. Some professionals like new challenges and like to challenge themselves. Pushing forward in an ongoing and (silent) internal quest of finding out their true potential and capability.
Quote:- Those who were courageous enough to win this internal quest, have changed history over and over again. These group of people we know as Innovators.
Some professionals are early adopters. Currently total number of certified PgMPs have crossed 1400 mark, these are still early adopters. Considering overall project management success, faster rate of increasing certified PgMPs and acceptance of program manager role by many industries across the globe (more and more openings of program manager role), I think early majorities may follow sooner (may be in next couple of years) than later.
As you would agree, financial freedom and pay rise remains a common need for majority of us. Let's look at salary/rate differences between Project Manager and Program Manager roles. As you can see in illustration above, which are references taken from www.seek.com.au, program manager role has higher daily rate, higher strategic role and most likely that contracted project manager will be one of the project managers this program manager will have in his program/s.
In reality Project/Program Manager salaries/rates vary significantly based on different industries, sectors, terms, required level of experiences, titles, project/program sizes and budgets, involved risks, competence availability in market etc...
Login to your PMI.org account and access this PMI's Salary Survey Report at http://www.pmi.org/learning/project-management-salary-survey.aspx PMI's report covers many other countries. Its quite insightful.
In summary, surveys above (plus a real example taken from a reputed career website above) are good indications that career move from project manager role to program manager role can be a good career growth with financial benefits. Do you think it makes sense? Why not do it right, by pursuing PgMP Credential? Contact us and find out if you are eligible to pursue PgMP Certification?
And at some point when you are ready for PgMP Application, download the Application Preparation Worksheet from this page, https://www.pmcerty.com/index.php?pid=cms&slug=freeresource
Recommended approach is to collaborate with PMCerty trainers to ensure sure success on your 1st and only attempt. Professionals who procrastinated before, got started and moved swiftly just by collaborating with our trainers. Saving both time and money. For more information, visit www.PMCerty.com
PgMP Certification Virtual Training on this page, https://www.pmcerty.com/index.php?pid=productdetail&proid=75 is best value for money, giving same results as other PMCerty trainings. And provides you conditional guarantee to clear PgMP Exam in 1st and only attempt.
---
---
---
---
---