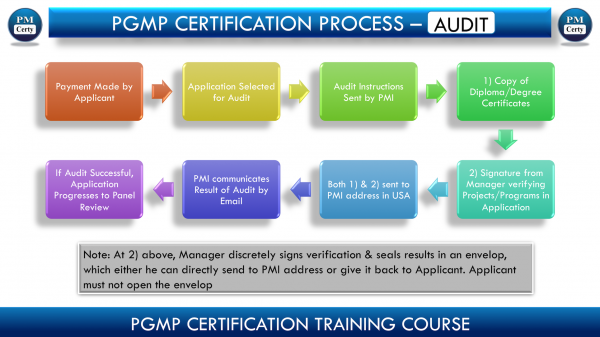 What If Your PgMP Application Got Selected in PMI's Random Audit?
We have looked at PMI's PgMP (Program Management Professional) Certification process in Previous Posts. Where you were introduced with PMI's Random Audits. PMI selects applications randomly. PgMP Applications are found audited more frequently compared to PMP Applications.
Many professionals worry unnecessarily about audit, which kind of adds to their procrastination. The fact is, it is just the matter of understanding the Audit process, requirements and preparing for it upfront along with Application preparation itself.
See the illustration above to understand PMI's Audit Process applicable to PgMP Credentials.
Although all the information entered in your application is subject to Audit, in almost all the cases seen so far, PMI has been auditing particularly two items from your Application, which helps prove your eligibility for the Credential. One is your Education (i.e. Diploma / Degree etc...) Certificates and the other is Your Program Management Experience. Hence while finalising this information for the Application, you should be thoughtful of the potential Audit. Also, contact your manager who is going to verify your experience and take him/her into your confidence.
One more thing. Even though application does ask contact details (phone number/email id), we haven't seen an example yet where PMI has called Applicant's reference directly. Which doesn't mean that they can't. You just need to be prepared for the same. The truth is, PMI would be expecting your Application to be thorough, consistent and complete so that they don't have a reason to go beyond their normal routine. If you make it easier for PMI, most likely outcome will be that PMI will make it easier for you.
At some point when you are ready for PgMP Application, download the Application Preparation Worksheet from this page, https://www.pmcerty.com/index.php?pid=cms&slug=freeresource
Recommended approach is to collaborate with PMCerty trainers to ensure sure success on your 1st and only attempt. Professionals who procrastinated before, got started and moved swiftly just by collaborating with our trainers. Saving both time and money. For more information, visit www.PMCerty.com
---
---
---
---
---